A Letter From The Editor
If I had to use one word to describe a near decade career of 'Shook', I would have to use maturity. This is evident in his progression as an artist, from NuDisco to complex and beautiful NuJazz(?); his visual aesthetics from hiding behind animated ray-bans to vast imagination-scapes and irl photos; and he new appreciation for life.

DnM: Goedemorgen Jasper.
Shook: Goede avond Kyle
DnM: Thank you for joining me today. I hope you're enjoying a nice coffee this morning.
 Shook: I am.
DnM: We've got a lot to unpack today with 'Shook' being around for nearly 10 years. But before we dive in, I want to throw a couple nice ice breakers your way.
Shook:  Oh, sounds exciting. Is that so, nearly ten years already? Hearing it from you it sounds like a long time
DnM: Eight since the first Soundcloud upload. I assumed the first song you made wasn't published.
Shook:  Oh really? Didn't know that. Probably something from The Glow EP.
DnM: So, favorite piece of synth hardware you own?
Shook: I love Synthesizers. 🙂 Uhm… At the moment I think it's either the Polymoog 203a or the Minimoog Model D.
DnM: You have quite the collection.
Shook: Yeah it's a little bit like a museum here sometimes.
DnM: Haha, nothing wrong with that.
Shook: But I have no space anymore. So I have this rule, that when one comes in, one must go out, otherwise I can't walk in my room anymore.
DnM: Good rule. 2nd question; favorite key to write in?
Shook: That is a difficult one..! I used to write a lot of songs in D minor. I don't know why. They say it's the saddest key. At the moment I wrote a lot of songs in F major. Maybe I am more happy now. I prefer Minor I think. But it's nice to have a song that has parts in Major and Minor. It's nice to have a melody or a motive where it's not obvious yet if it progresses to a minor key or a major key.
DnM: Over the decade you've evolved a lot. Both musically and in style. The one common theme I see in your growth is a certain imagination, especially in your artwork. You have a lot of themes of space and solitude. My guess was this is due to growing up in a rural Dutch area. How did living in the countryside shape your music?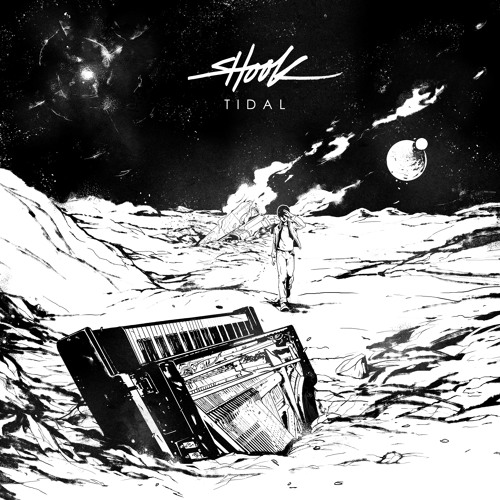 Shook:  I grew up in a small village here in Holland. I am fortunate to grow up in a safe and friendly environment like that. I have good memories growing up there as a kid. I think I had a lot of freedom to use my imagination, and be creative a lot as a kid. Music was always in the family, and we used to play together a lot in the house. My brother would play guitar, my father would play the piano. And my mother would cook a nice meal at the end of the day.
DnM: Family and music are really intertwined for you, it seems. They really shaped your influences.
DnM: I notice this 'World of Shook' in your musical influences and preferences as well. While some kids are listening to Diplo you prefer "An American in Paris". Much, like Gershwin, your music is a style of music that approaches telling a story – almost. How do you approach writing music with your classical and professional training – and make it soundcloud friendly?
Shook:  The music is somehow always connected to how I am feeling at the moment. There is no written rule for me when making music. It's important for me that I challenge myself each time. It's more fun for me, other wise I get bored very easily. I try to surprise myself.
DnM: When you're writing sheet music do you ever think like "oh this major 5th (or something more complex in theory) won't be be truly appreciated".
Shook: I was never good at music theory when I was still studying. I was the worst in class! I just started to pick up writing on sheet music again, but I don't think too technical, like "these notes may go or may not go together etc". If it sounds good to me, I use it. But it happens a lot that I write something down and then I play it the next day I don't like it at all. Mostly when this happens, I keep working on it untill it satisfies me. The best ideas for me often come unexpected, so I always keep a voice recorder near my piano. And just record how I feel at the moment.
DnM: That's awesome, a lot of your music comes from as you said 'the moment'. Pure feeling.
Shook: Yes. But it is good to have an understanding of how chord structures and melodies work. Lately I study a lot of A.C Jobim again, and have books from Joe Hishiashi nearby. And I always have the little real book of jazz standards on my piano.

DnM: Most fans know Shook for hits like 'Milestones','Keys of Light', and 'Tonight'. But now with 'Tidal' and 'Infinite' we're hearing a different sound. One that is more complex and less groove driven. What prompted this change?
Shook: With the album "Spectrum" I really dove into my jazz background. I was listening to a lot of Japanese Jazz fusion at the time. With "Continuum" I explored themes where I almost went to in the previous album. Continuum was a lot more personal to me I think. A lot of stuff happened in my personal life, and I think the album Continuum reflected that.
DnM:  You went threw another change. So to speak. What I am curious is did your health scare / being in the hospital shape your new music? Did you have any Brian Eno moments (dowtempo producer who was influenced by the rhythms of his machines)?
Shook: Yes it did shape my music. Being in hospital care for so many months really changed the way I look at life. Meeting all these inspiring people who are so ill, but never give up. I am so lucky to be healthy again now, but my experiences being critically ill really shaped the way I am now. When I was aloud to go back home again after 7 months, I had all these ideas in my head for new music. While still in recovery mode I started to record new melodies from my synthesizers and piano. I was so happy to be back home again, and I think you can hear that in the music.
DnM: It sounds like 'Bicycle Ride' is going to be a very personal album. I know we get to hear the first single April 24th.
Shook: Yes! Tuesday!
DnM:  Any major inspiration for the album?
Shook:  I was re-watching a lot of my favorite Studio Ghibli movies while writing the album. Also I have been very inspired by the music of Japanese ambient composer Hiroshi Yoshimura.
DnM: When do we get to see a full anime version of the story of Shook?
Shook: Haha. Well I would love to do soundtrack work for anime movies. That would be really cool!
DnM: Thanks for taking time out of your day Jasper. It's been a pleasure.
Shook: Same here Kyle. Thank you!
https://www.facebook.com/shookshookshook/
https://www.shookmusic.com/