Everything you need to know about Daft Punk.
This article is intended to educate the most seasoned veteran of Daft punk or a first time listener.
——————————————-
Daft Punk is comprised of two members: Thomas Bangalter (The S on Thomas is silent, he is French) and Guy-Manuel de Homem-Christo (Pronounced "Gee'-also french)
They looked like this with out their helmets on(picture taken in the late 90s):
——–
The two featured above come from wealthy families. Thomas' father was a musician and producer while Guys' owned and operated an ad agency. This allowed them to attend and meet at a prominent Paris based high-school of the name Lycee Carnot. This is where they met Laurent Brancowitz –  If the name sounds familiar it is because he's now a guitarist of the world renown, Phoenix.
You've heard it, haven't you? That's because it was considered one of the best songs of 2009, and maintained a few weeks in the top 10 billboard.
In the mid 1990's the three of them created a rock group called 'Darlin'.

Song : Darlin' – Cindy So Loud

At one of their live performances a critic from 'Melody Maker' called their music and them a bunch of 'Daft Punks', and hence the name was born.
T&G stopped making rock music shortly thereafter, and pursued the emerging electronic music scene. They learned the basics production of electronic drum machines and the fundamental elements to french-house. Which allowed them to created their first demo as 'Daft Punk', titled 'The New Wave'. It contained two songs, Alive and The New Wave.
Song : Daft Punk – The New Wave

This demo scored them a record contract, with Soma Quality Records, and their first official album – Homework.
Homework:
 "We made the record at home, very cheaply, very quickly, and spontaneously, trying to do cool stuff." – Thomas Bangalter


Work at home = Homework
This is daft punk's first album, and is heavily influential in the early 90s electronic music scene. Many consider it to be one of, if not, the most influential albums for EDM – Electronic Dance Music.
Homework is not their most popular album, nor get the praise and acknowledgement it deserves. However, it is utterly ground breaking. It has elements of Funk, Drum and Bass, Hip-Hop, and Soul music (which is are fundamental roots to electronic music.)
A personal favourite track from the album is Revolution 909.

Song : Daft Punk – Revolution 909

Every album that Daft Punk releases, they also produce a movie, this is a clip of their first
'A Story About Dogs Androids Firemen and Tomatoes'
Each subject, Dogs or Tomatoes, etc relates to a certain scene in the movie.
Also While working on this album and before their next, Discovery, both Guy and Thomas had side projects.
Thomas :
Worked with Alan Braxe, under the name "Stardust" to write Music Sounds Better with You"


Song : Stardust – Music Sounds Better With You

Thomas also recorded with DJ Falcon under the name "Together" to make the song "So Much Love To Give".
Song : Together – So Much Love To Give

This song was recorded in a day, in between Thomas and DJ Falcon's Birthdays ( January 3rd and 2nd, respectively)  (If you are wondering why the name DJ Falcon sounds so familiar, well that's just your memories getting the best of you)
Thomas also produced the song 'On Da Rocks', during this era
Song : Thomas Bangalter – On Da Rocks

Thomas released his side music under a false label of the name 'roule', which is a reference to their song Rollin' and Scratchin' from Homework.
Guy:
Worked under the name Le Knight Club.
 Song : Le Knight Club – Soul Bells

A notable track of his is 'Holiday on Ice', if you have been paying attention you will hear why.
Song : Le Knight Club – Holiday on Ice

Side note music:
 Song : Alan Braxe – Intro [Featuring Fred Falke]

His collaborate, Fred Falke, is a pioneer and god for French music.
 Song : Fred Falke – Golden Cage [Remix of Whitest Boy Alive]

Discovery :
"This album has a lot to do with our childhood and the memories of the state we were in at that stage of our lives. It's about our personal relationship to that time. It's less of a tribute to the music from 1975 to 1985 as an era, and more about focusing on the time when we were zero to ten years old. When you're a child you don't judge or analyze music. You just like it because you like it. You're not concerned with whether it's cool or not. Sometimes you might relate to just one thing in a song, such as the guitar sound. This album takes a playful, fun, and colorful look at music. It's about the idea of looking at something with an open mind and not asking too many questions. It's about the true, simple, and honest relationship you have with music when you're open to your own feelings"
A good way to remember this is; this album is where they discovered live samples.
This album is by far for their most popular, critically acclaimed, and influential. It helped define the French house genre, perfected and established sampling in the music industry; far beyond what hip-hop was doing for sampling.
Why is this important?
You will notice here that the album is constructed around samples
This is the era in which they started dawning costumes.  Their helmets and attire have changed in style over the course of their career.
'Discovery Outfits'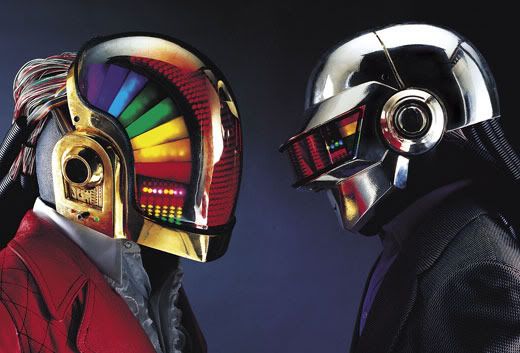 "We did not choose to become robots. There was an accident in our studio. We were working on our sampler, and at exactly 9:09 a.m. on September 9, 1999, it exploded. When we regained consciousness, we discovered that we had become robots."
To give you an extent of Daft Punk's influence on the world, here is a song from the album:
Song : Daft Punk – Harder, Better, Stronger Faster

Was later sampled by a little someone known as 'Kanye West'
They are featured in the video, which is a homage to the Japanese anime film Akira.
A personal favorite song here at drugs and mirrors is "Something About Us", also known as Love theme from Interstella 5555.
It has had countless covers, and renditions. To show the depth of Daft Punk's influence, not only on the electronic, or the Hip-Hop scene, here is a cover in a jazz style.
As to what Interstealla 5555 is, a feature length film to the album. Each song is represented by its own video and each video is connected telling a story.
The story is essentially about the abduction of an alien rock band who are then transformed into human form, brainwashed and forced into slavery for a music label.
The animation was done by their childhood hero Leiji Matsumoto.
http://www.youtube.com/watch?v=h7K2DxCIEc8
The vocals for One More Time and Too Long were sung by the late Romanthony. Whom was well known in the industry, for his talents as both a singer and producer
Song : Romanthony – Hold On


Fun fact:
That the song "Veridis Quo" on the album Discovery can be pronounced "Very Disco", which then can be switched around to "Disco Very" or "Discovery".

Unfortunately there is no English translation of Veridis Quo – Veridis in not an official Latin word.
Daft Punk took a 3 year hiatus before releasing their next album "Human After All"
Human After All
"This album speaks for itself"
This album is the third release from the duo, and received the most mixed reviews.
We personally believe that, it is because it was not a dance album like their prior Discovery; the album that generated their fan-base. Rather, Human After All has a minimalist approach, the album was composed using only a drum machine and 2 guitars, and borders on a electro-prog-rock.
This album unlike their last, has the emotion of, as per Bangalter "of either fear or paranoia… [The record is] not something intended to make you feel good", and is inspired by the Orson Welles Book 1984.
To provide an example of the albums' almost dystopian tone,
Daft Punk – Brainwasher

Here are the helmets and attire that were used for
the Human After All era.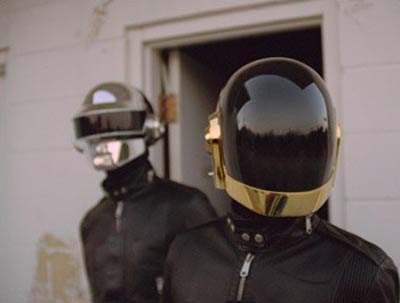 Notice the attire change from, the 80's-esque disco chic, to the all black, dark, and futuristic. A representation of the album itself.
Daft Punk – Make Love
(I have had friends lose their virginity to that song)
Not all the songs on the album are dark and brooding, our personal pick of the album
Daft Punk – Emotion

is gyratingly beautiful.
Again, the influence of Daft Punk trickles into the mainstream with Busta Rhymes Sampling 'Technologic'
The movie associated with Human After All is Electroma, a story of two robots and their search for identity. Again, to illustrate the influence of Daft Punk on society as a whole, the album was released and viewed at Cannes Film Festival.
Guy states his opinion on the film 'There's a feeling of despair for some, but that's not what we wanted. Because the whole movie is without dialogue, it's more a question than an answer. We wanted to make a question mark so people could project what they wanted onto Electroma – some people see it as sad, some as happy. Everyone is different"
In order to appreciate this movie, you need to have patience and appreciate the deeper art – much like daft punk's music. There are long scenes that drag on, however the aesthetics beyond the scenes are what make this movie stunning.
http://www.youtube.com/watch?v=1WgIRXm19pY
The time frame post Human After All spawned two great things; The Alive 2007 Tour, and time to work on non Daft Punk music.
Alive Tour – 2007
"The goal was to try and bring a complete global experience to the audience."
Song : Daft Punk – Robot Rock / Oh Yeah

The term `Alive` has a few associations; their tour in 1997, the tour in 2007, and the album's name itself, which was a live recording of their performance in Paris, France, at the indoor arena – Bercy
( A photo of event seen below )


Song : Face to Face / Short Circuit

The concert was performed a top a DJ booth in the shape of a pyramid seen here,
http://www.youtube.com/watch?v=y2fHQs_HG6Y
"the thousands of clips on the internet are better to us than any DVD that could have been released" – Thomas Bangalter

It is what also spawned a Daft Punk hand salute

Daft Punk – Face to Face / Short Circuit

The interior of the pyramid looked like this

Which is described as  "custom made super-computers", running Ableton Live software connected to several different MIDI devices (Musical Instrument Digital Interface), which allowed the duo to  "mix, shuffle, trigger loops, filter, distort samples, EQ in and out, transpose or destroy and de-construct synth lines."
The album won the Grammy Award for Best Electronic/Dance Album in 2009
Tron
"We knew from the start that there was no way we were going to do this film score with two synthesizers and a drum machine"
Again, notice a change in their attire.
Daft Punk – The Son of Flynn

Both artists have stated the original Tron has had a profound effect on them.

 The movie was actually cut to the album, which differs from the traditional style in which it is vice-versa.
I like to view Tron not as a movie scored by Daft Punk, but rather Daft Punk`s music with a movie built around it. Which will maintain the theme of them making a movie for every album.
Daft Punk – Solar Sailer

The album took more than 2 years to write and produce and contains 37 songs.
Daft Punk – Tron Legacy

There is an official remix album released titled "Tron Legacy : Reconfigured"
M83 vs Big Black Delta – Fall Remix

Random Access Memories
"We wanted to do what we used to do with machines and samplers, but with people."

 Random Access Memory is a volatile form computer memory, which can only be accessed while in use, or with the power on.
It is fairly evident that Daft Punk helped shaped, mold, and define electronic music.
With RAM they have done it again, which most people don't fully realize or grasp.
It is a nu-age of electronic music, an age that combines the organic and with the inorganic, real live instrumentation and the digital.
The album has a collaborators lists that is utterly impressive.
Giorgio Moroder


Wrote Donna Sommer's – Love to Love You Baby, and a multitude of other disco tracks

Donna Sommer – Love To Love You Baby

Panda Bear


Is the leader singer for Animal Collective
Animal Collective – My Girls

Daft Punk – Doin' It Right

Julian Casablancas


Front man for The Strokes
Chilly Gonzalez


A Grammy nominated, award winning pianist and producer
Chilly Gonazalez -You Can Dance

Nile Rodgers

Guitarist for Chic, writter for David Bowie, Madonna, Duran Duran, the list goes on.
Without a doubt, the song 'Lose yourself to dance' is the best song on the album and I will tell you why.
Daft Punk – Lose Yourself To Dance

As the artist said they wanted blend electronic and organic music.
Point a. The guitar riff played and written by Neil Rodgers, is beyond funking
Point b. The robotic voice singing 'Ca mon', not only does it pan left and right, but if you pay close attention it fills musical space by actually moving top to bottom.
Point c. Everybody on the floor ties the two voices together but being panned dead centre.
Point d. The ever-sexy Pharrell voices a dazzling refrain.
It's pure harmony.
 The rumor mill spins that 'Contact' was scored to the final scene of Space Odessy 2001
Other Work
Guy produced the entire album 'Sexuality' for Sebastien Tellier, a French Disco-House artist.
Guy also produced kavinsky`s Night Call
Thomas scored a movie in 2002, titled Irréversible.


Thomas Bangalter – Spinal Scratch

Before the duo collaborated with Pharrell on RAM, they first produced his track 'Hypnotize U'
Song : NERD – Hypnotize You

If you liked this article, follow us on facebook : https://www.facebook.com/DrugsAndMirrors